TriBella from Venus Versa™ combines the power of three unique non-surgical procedures into one complete skin renewal treatment. Resulting in incredibly smoother, younger, healthier-looking skin. This high-intensity non-invasive solution gives highly visible results faster and in fewer treatments within minimal downtime and cost effective.
TriBella combines photofacial, lifting & sculpting, and then skin resurfacing with Venus Viva (micro needling) treatments in one session. Making it the most comprehensive and effective answer for complete skin renewal.
This highly affordable treatment will make your skin look tighter and younger, cleaner, firmer and with fewer lines or wrinkles with minimal downtime.
Treatment pricing for Tribella varies. Please click via the Booking Button for a Consultation.
The treatment starts with the photofacial treatment for uneven skin tone and discolouration. Photofacials use precise bursts of intense pulsed light to improve the appearance of uneven skin tone and sun damage. The light targets and reduces the haemoglobin pigment inside visible blood vessels and dark pigmented spots.
Then the treatment moves onto the lifting and sculpting treatment to help erases wrinkles and firms up skin utilising a comfortable combination of energy types to produce heat beneath the skin, helping to promote healthy blood flow and increase the production of collagen and elastic fibre.
The third application is the skin resurfacing which improves skin texture by delivering energy deep into the skin, using tiny electrode pins to create micro-dermal wounds with minimal impact on the epidermis. As the skin heals, it naturally boosts collagen and elastin production for total skin renewal.
Not sure what's right for you and need professional advice? Start with a consultation.
Frequently Asked Questions
TriBella treatments are completely safe, and we can treat all skin types (viva), offering consistent and predictable clinical outcomes. However, all treatments have a minor chance of adverse reactions that can occur and will be covered during the consultation process.  Post treatment is it important to protect your skin, using a broad spectrum sunscreen, avoid any sun exposure for at least 48 hours following treatment. TriBella downtime is typically three days. 
After 24 hours you can apply your make up and mineral make up is best. In between treatments its highly recommend to apply Nicinimide (vitamin B) and a stable Retinol (Vitamin A) serum which help to stimulate cells, keep the skin hydrated, and help repair damage caused by ageing and the UV rays.
Tribella treats the signs of skin aging and damage, to the skin such as lines, wrinkles, uneven complexion, or uneven texture. Tribella work to improve the look of skin tone, elasticity, pigment, redness and texture.
 You may not be able to get this treatment if you have excessively tanned skin, a history of skin disorders, implants in the treatment area, or an active condition that can be stimulated by light or heat.
Typically for a successful outcome and post long term effects a general treatment requires anywhere from 3-6 TriBella treatments and can also be combined with Diamond Polar skin tightening for additional benefits. As no two skins are alike the number of treatments and what specific outcomes are required vary and during the consultation process your individual needs will be considered and a personal treatment plan provided.
Your skin may feel quite warm, much like a sunburn, and hot to the touch. It can also be slightly swollen. The redness can remain for up to a few days. Its vital to follow the pre and post care instructions to avoid complications. 
The applicators have built in cooling features that are designed to make the treatment as comfortable as possible, however due to the skin being stimulated throughout the treatment, you may still experience some minor discomfit.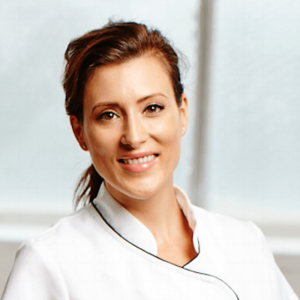 With over 20 years of award winning service, our mission is to deliver you real results with the upmost care and attention to your personal needs. We're committed to using only the best medical grade equipment and exclusive products to deliver safe treatments of superior quality.